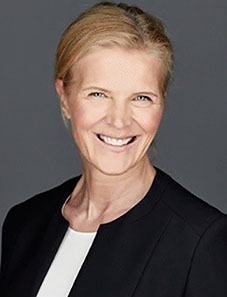 Caroline Kuyper
Associate Vice-President for Participations
EPFL
Caroline Kuyper is an expert in strategy development and leading change. She has worked for multinational companies such as Philip Morris International (PMI) and Nestlé, as well as for non-governmental organisations such as the International Olympic Committee. She graduated from the Faculty of Business and Economics (HEC Lausanne) in Switzerland and completed the Program for Executive Development (PED) at the International Institute for Management (IMD) in Lausanne and executive programs at the London Business School.
Ms Kuyper started her career in the field of operational audit and financial planning at PMI, where she specialised in business development and buy-outs of manufacturing plants in Eastern Europe and Central Asia. She then gained experience in the food and beverage sector, serving as Group Controller for the Globally Managed Businesses of Nutrition and then for Nestlé Waters worldwide. She then served as the Head of Finance for R&D, Innovation and Technology at Nestlé, with the mission of providing long term strategies to finance strategic portfolios and improve R&D return on investment.
In 2015, she decided to broaden her experience to the Swiss public domain, and was appointed Deputy Director of the Federal Statistical Office – also leading International Affairs as Swiss Ambassador and in the resources divisions including Finance, IT, Human Resources, Legal and other administrative services. Ms Kuyper joined EPFL in February 2017 as Vice-President Finance & CFO, with the mission of creating a new Vice Presidency and setting up the structures and processes to support for the School's transformation and growth.